Bass Lessons
Best Beginner Bass Lessons
*** As Seen on You Tube ***

Excellence in Teaching!
Do you lack inspiration, direction, or system in your learning? I guarantee to help you get on track.
Any Time, Anywhere

15 Years Experience in Distance Music Education
35 Years Experience as a Professional Bass Player and Music Educator
"Your bass instruction resource, services and frankly your approach to the craft is spot on cool." Ron G, USA
"You are providing exactly the type of lesson material and feedback I was hoping for." Tim S, USA
There are heaps of links from the navigation bar to the left. Please take your time to browse this website.
Updated 10 May 2012 - This site is undergoing some changes
Please Note: I am no longer offering individualized correspondence lessons. Instead, you can subscribe to a complete course of Beginner Bass Lessons Online AND Intermediate Bass Lessons Online through my main bass lesson website at Bass Lessons Online
The Beginner series of Bass Lessons Online contains 50 bass lesson videos

Looking for bass lessons for less than $5.00? as advertised in Bass Player and Australian Musician magazines. Click HERE!


Check out the popular MP3 lesson titled Groove Creation for Bass. "Within the first minute listeners will gain valuable new ideas." Australian Musician magazine, September 2003.


NEW! Workin' It Out - Aural Skills for Bass Players - Level 1. A 45-minute MP3 lesson.


Walking Bass book - a systematic method. Now available for immediate download as an E-Book!


Pay securely online with PayPal. All major credit cards accepted!


Earn Revenue - 30% Commission
Become an Affiliate of Bass Lessons Online
$10.00 Signup Bonus

Its Easy and FREE
Signup and Info HERE
---
Reflection of the month: "To be there we must get there."
---
George Urbaszek

Do you live in a remote area?


Do you want to learn in you own time and at your own pace?

Do you want lessons in manageable portions?

Is there a problem area in your playing?


Step-by-step bass lessons you can downlaod to your computer are guaranteed to help.

Great for people who can't get to a qualified teacher!

---
Gain Confidence - Get More Gigs
or just learn to play
---

Do you have a P or J-style bass with inferior pickups? Then replace the pickups with Tonerider - AT A MUCH LOWER PRICE
My extensive tests show that Tonerider pickups equal the quality and sound of the pickups in my American Fender Precision and Jazz basses
See for yourself at PowerHouseMusic
---
---
Check this out!
A bass and guitar rest, so versatile, small and portable that it fits into your case or gig bag. Only USD $15.00 includes shipping to anywhere in the world.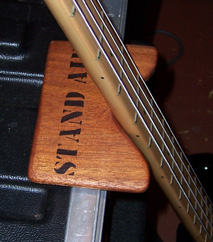 Click HERE to go to the StandAid website for more information, photos and online orders.
---
---
My objective is to provide high quality bass guitar instruction via downloadable online lessons.


My own 35-year-experience and familiarity with most genres of bass guitar and double bass playing provides the foundation for my lessons.


I cater for complete beginners and professionals alike, with concepts ranging from groove creation to advanced jazz soloing.


No matter what level of experience the student may have, I endeavor to bring out the student's best in both technical and musical terms through a disciplined, systematic and fun approach to learning.


These lessons are especially beneficial for players who are unable to have face-to-face lessons with a qualified teacher and provide a superb alternative.
I am a one-man-operation. Any material sent to me will be handled with absolute discretion and will neither be seen nor heard by anyone else.


I give my assurance as an individual and as a professional that all information will remain confidential.
---
Click this link
Tutor
to Become a Tutor
or if you are looking for an Online Tutor
---
Bass lessons are supplied by Creative Bass
A division of Creative Avenues, ABN 22 323 614 466
Physical Address: 2 Nimbin Street
The Channon, NSW 2480, Australia
Phone/Fax: 061 266886143
Email
---
I use IX WEBHOSTING because I have never had to wait longer than 17 minutes for a solution to any query submitted via email.